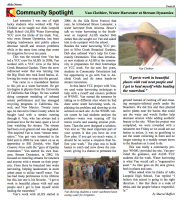 "Last semester I was one of eight lucky students who worked with Van Clothier as he taught our Aldo Leopold High School (ALHS) Water Harvesting YCC crew the tricks of his trade. Van, who owns Stream Dynamics, has been helping landowners and public places decrease runoff and erosion problems while at the same time using that water for irrigation for over ten years."
"This was the second time Van has led a YCC crew for ALHS. In 2006, Van worked with a YCC crew at the Silva Creek Botanical Garden. There the crew redirected water that was running into the Big Ditch into rock lined basins, al- lowing the water to seep into the ground."
Read the rest below in the Aldo Leopold High School News on page 6.